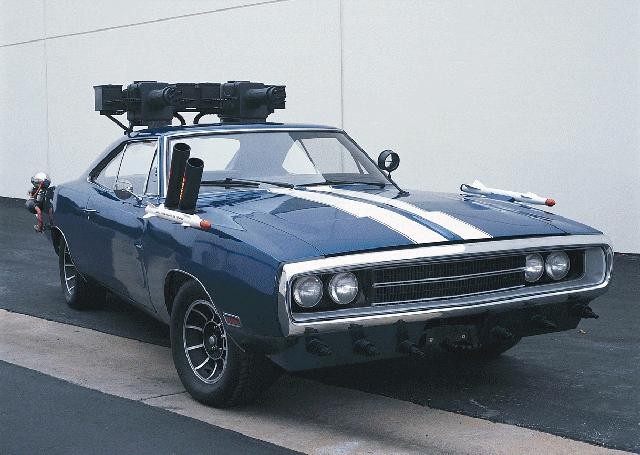 The History of "Outlaw" a 1970 Dodge Charger 500
In 1997 Activision gave away a 1970 Dodge Charger 500 in promotion of the video game INTERSTATE '76. We have spoken to several people who remember a movie named INTERSTATE '76, staring the same vehicle, but we have not been able to find any documentation regarding this. The car was outfitted with 2 roof mounted machine guns, rockets on both front fenders, a scope on the driver's side hood, 1 rear mounted gun, 1 nitrous tank mount with 2 regulators, 1 dropper and the center of the bumper would flip down. The car was originally from California and painted B5 Blue. Activision repainted it Dodge Brilliant Blue Pearl with a pair of 6 inch wide white racing stripes.
Michael Probst of Little Rock, Arkansas was the lucky contest winner. During a phone conversation in 2004, Mr. Probst said when he received the car it did not have a gas tank and the front frame was rotted. He sold the car a short time later to James & Margaret Harden of DeValls Bluff, Arkansas for $2,000. The Hardens had the weaponry removed, but there are holes and bondo where the weapons were located. The car suffered alot of damage to both front fenders, front valance, grille, right rear quarter panel, and rear valance while in their possession. They owned the car for a few years. The first year the Charger spent on the road or wrecked and in a ditch. It then sat in a horse pasture until it was purchased in 2001 by Ross Williams of Clarenden, Arkansas for $800. Mr. Williams drove the car a total of 15 miles because it was almost impossible to steer due to the severely rotted frame. The Charger sat behind his shop for 2 years on blocks. Mr. Williams was going to part the car out because he did not think the extensive frame damage could be fixed. In 2003, the car was sold to Anthony Tibbett of Humphrey, Arkansas for $500.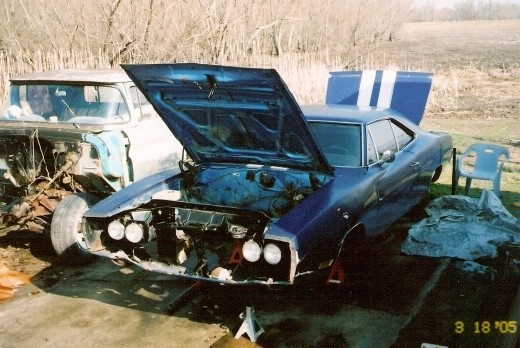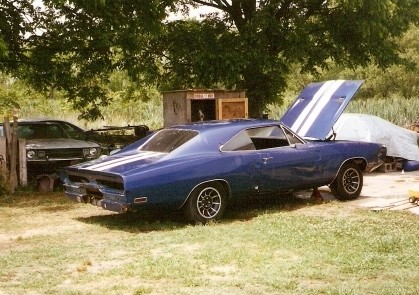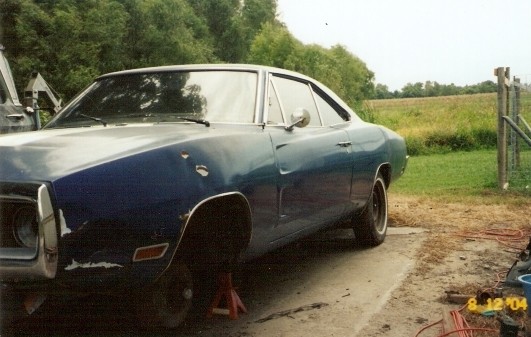 Since in our possession it has been undergoing a slow but steady restoration. Both front frame rails have been replaced, all bushings, tie rods, upper and lower ball joints have been replaced, 80% of the body work is done, and it has a new grille. When complete, the drivetrain will consist of a 440 cid engine, 727 torqueflight transmission, and an 8.75 sure grip rear end. Compared to the body, the interior is in excellent shape other than needing a new dash pad and a few small rips in the upholstery fixed. The interior is all black except for the seats, which are black vinyl with black and white checkered cloth.
We are going to repaint the Charger the same 1996 Dodge Brilliant Blue Pearl with white racing stripes and keep the original vector wheels so that it looks like it did when it was given away by Activision. We decided because of the cars history, a good name for the Charger would be "OUTLAW". We look forward to updating you as this project progresses.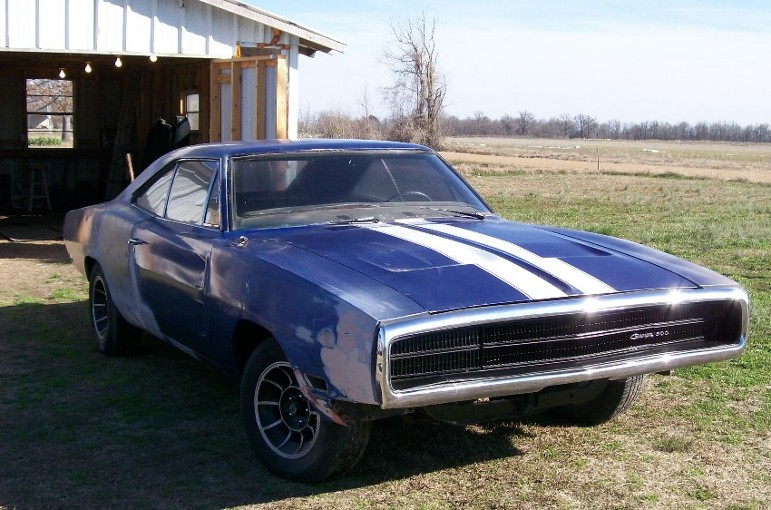 Thanks, Anthony Tibbett